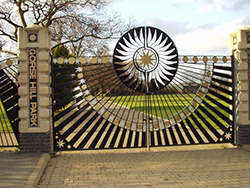 At Graeme Brodie Blacksmith we are able to offer our customers a personal service both on-site and at our workshop at Leith. You can find out exactly where we are based (and get directions if you need to) by looking at our map.
PRODUCTS
We are able to fabricate and install gates, railings and other handcrafted bespoke items to our customer specifications or from our extensive design service. Staircases (straight or spiral) can be made to measure to customer design.
FABRICATED IRONWORK
We carry out small industrial steel work i.e. Balconies, beams, lintels and balustrades if provided with suitable drawings/plans. We can also help with design if required.
SECURITY
We can fabricate and install security grills to windows and reinforce doors. We work in conjunction with a company who can automate driveway gates that we make.
REPAIRS
We are also able to carry out repair work to gates, railings & other metal items. We are experienced in the repair & restoration work in the Edinburgh New Town and work closely with a Local Foundry to do this.
WELDING
We carry out Mig Welding, Gas Welding and Welding of Cast Iron. Although we do most of our welding at our workshop but do have a mobile generator to carry out on-site work.
Please see our Gallery for photos of our recent work. If you need any advice about our services please use our contact page to get in touch. You are also welcome to visit our workshop but please phone our mobile number first in case we are out!